Steadfast Training Ltd's response to the COVID-19 outbreak affecting the UK
Steadfast Training is working to ensure that all possible actions are being taken to enable us to continue to support our learners and employers. Based on the current Covid-19 advice, all functions of our business are now operating remotely with all departments working from home. Head office has temporarily shut in order to minimise risks to our employees by fully embracing social distancing.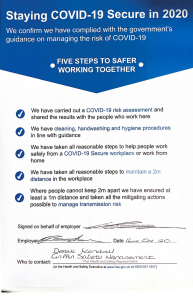 Learning and enrolments are now being undertaken remotely in order to support our wonderful Apprentices, learners and employers. We are open and available and will remain in continuous discussions with employers, who are fully supportive of our response and want to keep business as usual for our learners as far as possible by partaking in visits remotely. We thank our employers for their support in this time. Our aim remains to deliver high-quality training and to ensure that our learners are not disadvantaged and are able to continue their studies in these challenging times.
You can contact Steadfast Training Ltd on info@steadfasttraining.co.uk for any further information, or contact your Trainer or Account Manager directly
For more information on the coronavirus please seek information on gov.uk/coronavirus  or nhs.uk/coronavirus
We confirm we have complied with the government's guidance on managing the risk of COVID-19